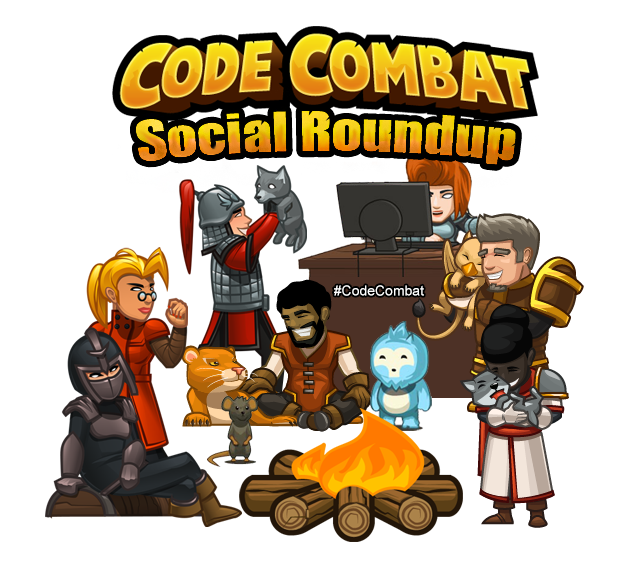 We rounded up a few of our favorite CodeCombat related social posts from around the internet to share our digital appreciation with our awesome students, educators, and players.
---
In this Social Roundup: Comfy coding, the best homework EVER, snow days are code days, and more...
---
Educator, Jaime Juchems at Star Center Elementary seems to have a group of very excited coders on her hands!
Coding Class with @codecombat #GoStarCenter pic.twitter.com/D30uI2rQeW

— Jaime Juchems (@JuchemsSC) January 14, 2018
---
Thank you for sharing, Ms. Walsh. We encourage [pair programming](https://codecombat.com/teachers/resources/pair-programming "Learn more about pair programming") and love to see kids collaborating!
5th graders working together on CodeCombat pic.twitter.com/kSv1UYDcOZ

— Michelle Walsh (@mchllwlsh) February 1, 2018
---
We're so pleased, Dr. Shameem's class celebrated Global School Play Day 2018 by playing CodeCombat.
Our game design class #playing online game @CodeCombat to celebrate #GlobalSchoolPlayDay2018 #GSPD2018 #SurabayaIS #SIS #codeCombat pic.twitter.com/PiNfY8JCHc

— Dr. Ali Shameem (@alishamym) February 12, 2018
-------------------------------------------------------------
It's inspiring to see Rocky View Schools students work side-by-side with actual developers. Thank you for sharing that awesome moment, Ms. Wilkie!
Students in 4B work with developers from @SMART_Tech to learn about coding. #rvsed #codecombat #EEVE66 pic.twitter.com/cGzfGzq4xa

— Trina Wilkie (@trinawilkie) February 9, 2018
---
It's not always easy to detect student engagement in the classroom but this looks about right. We love the intense concentration on these students' faces. Keep up the great work, Moulsford educators and thank you for sharing CodeCombat with your school!
@moulsfordyear6 putting their #Python #programming to the test with @CodeCombat pic.twitter.com/SkUasMmztS

— Moulsford ICT (@MoulsfordICT) March 18, 2018
---
Jaime, that sounds like a perfect snow day to us. We hope you're staying warm and thanks for bringing us along too!
When you're a nerd like me, you teach your kid how to code in JavaScript, Html, and CSS on snow days! No blocks needed! He's a nerd, too! 🤓 @CodeCombat @codemoji123 pic.twitter.com/jgfnPRqKM8

— Jaime Allen (@jallen_jaime) March 21, 2018
---
What awesome sounds indeed! Thank you Ms. Waring for sharing the busy buzz and engagement of your students at Hoover City Schools.
Ah, the sounds of #CodeCombat in the morning ❤️🎉👏🏼💯 #csforall #hcsstrong @codecombat https://t.co/pWdrGLfAXC

— Ashley Waring (@WaringWhizKid) February 21, 2018
---
We can't wait to see what these Junior team of coders create in the future! Thank you, Black Girls Code for motivating future leaders and innovators and taking us on that journey.
Our #TeenTechDivas ((Jr Team)) are off to the races working on @CodeCombat #BackGirlsCode #BGCGameJam #BGCBayArea pic.twitter.com/lKvNcJyKsx

— BlackGirlsCode.Com (@BlackGirlsCode) March 10, 2018
---
We're so glad your students enjoy the new Assessment levels! Thank you for the shout out, Mr. Steele. We can't wait to see more from your class.
Assessments finished. Loving @CodeCombat ! pic.twitter.com/u5ItSTvl7S

— Anthony Steele (@acsteele7) March 23, 2018
------------
I don't think we would ever want to leave this library at Moshannon Valley Elementary school. Ms. Wagner, thank you for making such a cozy environment to learn coding
Using our @googlechrome #chromebooks to do some #coding with #5thgrade They are LOVING @CodeCombat !!!!! @MV_Knights @JohnZesiger @trtomasko pic.twitter.com/mJ3x5uGSED

— JWagner (@jwagner1006) March 23, 2018
---
We wanted to give a big congratulations to the students at Westgate Hill who demonstrated their computer science skills during the PIEProjectUK 2018 #BIGPIEChallenge. We're so happy the students had fun while learning!
Next challenge.... @CodeCombat How many levels can the children complete in an hour? Game on! @PIEProjectUK pic.twitter.com/joFfMB3FuT

— Westgate Hill (@westgatehill) March 23, 2018
We wanted to say a big thank you to @PIEProjectUK and @CodeCombat for our challenge day. We all had great fun! pic.twitter.com/Z0CdzS9SXB

— Westgate Hill (@westgatehill) March 23, 2018
---- Troy Hunt's son definitely lucked out in the homework department. Sign us up for any homework that involves playing a game to code! Thank you for the kind words, Mr. Hunt.
My 8-year-old son just got assigned code homework using @CodeCombat. This rocks - really visually engaging and object orientated too! pic.twitter.com/fDC0UzafGj

— Troy Hunt (@troyhunt) February 15, 2018
---
Thank you heroes and see you next time with a roundup of more great social shares! Want to be included in the next CodeCombat Social Roundup?
Simply share your pictures and videos with us on Twitter @CodeCombat, Facebook, or email us at team@codecombat.com.
Just remember to use the hashtag #CodeCombat so we can find your great content!
---


Continue the adventure! Share your pictures, stories and feedback with us on Twitter & Facebook, join the discussion on our Forums or contribute to our open source community. Are you a teacher, CS advocate, parent or administrator? Want to blog for us? Check out this post.