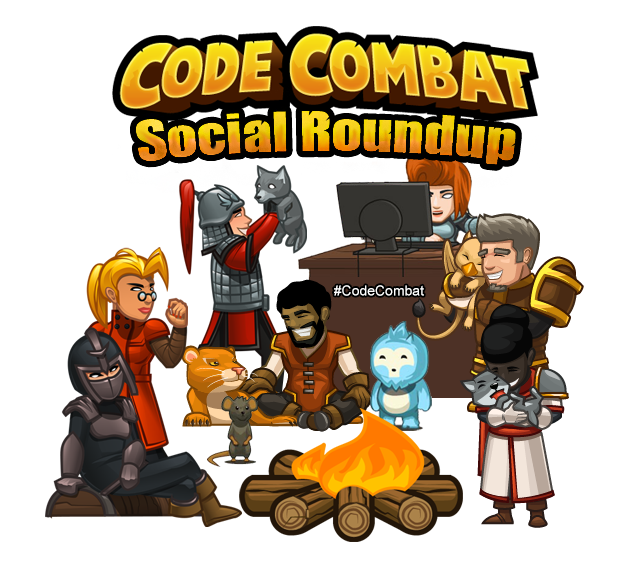 We rounded up a few of our favorite CodeCombat related social posts from the previous month from around the internet to share our digital appreciation with our awesome students, educators, and players.
---
Ah, the familiar look of brains working out code! Technology Coordinator and Teacher for Upsala Area Schools, Curtis Robertson, definitely has a room full of captivated students. We've seen that lean into the computer and those eyes glued to the screen many times before in classes across the country.
Using @CodeCombat in programming class. It is working out awesome! Lots of engagement! #learn487 pic.twitter.com/1gAkJQe9n9

— Mr. Robby (@MrRobby_UAS) September 7, 2017
We're glad your students are loving the game, Mr. Robby and we appreciate all the hard work teachers like you do to keep your classes energized and ready to learn.
---
We definitely needed to include Flat Rock Middle School's Twitter post, with those engaged students and that "Eat, Sleep, STEM, Repeat" poster, how could we not? Thank you, Flat Rock Middle for making us part of your STEM program!
Our STEM students learning Python with @CodeCombat! They love it! #STEMLife #fcboeSTEAM #EaglesSTEM pic.twitter.com/L3KHsQwFyt

— EagleSTEM (@EagleStem) August 10, 2017
---
We really love this Twitter post from Montello School District Computer Science teacher, Mrs. Foght. CodeCombat encourages interaction, challenge, and learning through trial-and-error. Thank you for sharing, Mrs. Foght!
"He could not figure out the code so I'm being his navigator" #teamcoding #codecombat #proudteachingmoment #flcsengage #msdcs pic.twitter.com/WDEnU9TsWE

— Mrs. Foght (@mrsfoght) September 22, 2017
--- Not only are Mr. Hall's, [Buljan Middle School](https://www.facebook.com/RCSD-Buljan-177600652414353/) students completing levels but we love the sounds of collaboration in the background. Thank you for sharing your students engagement with us, Mr. Hall!
Learning to program in JAVA and practicing our programming skills usinghttps://t.co/KxM5CmTyeQ @BuljanRcsd #buljanchampions #buljanpride pic.twitter.com/V5ujRNsCKL

— Mr. Hall (@BuljanTech) September 26, 2017
--- More captivated students! Thank you, [Mountford Manor](http://mountfordmanor.swindon.sch.uk/) for sharing this great tweet with us.
Playing codecombat that we learnt @NewCollSwindon @DigSchoolhouse today back on our school computers pic.twitter.com/qs7TQWWzpM

— Mountford Manor (@mountford_manor) September 21, 2017
--- We spot some intro game development training at [Bridgeport High School](http://www.edlinesites.net/pages/Bridgeport_HS)! Thank you, Mr. Favinger for being an awesome principal and for sharing us with your students.
#BPSBulldogs intro to computer science kids rocking it while coding on @CodeCombat pic.twitter.com/R1WZyFoq2R

— Mr. Favinger (@DustinFavinger) September 14, 2017
--- We love this this fun and random Twitter chat about how to best learn Python. We know there are a million options available to start your coding journey but it always puts a smile on our face when someone decides to take the leap with us.
How hard is it to learn Python*?
*asking for a friend
*the friend is me

— Emily van der Nagel (@emvdn) September 3, 2017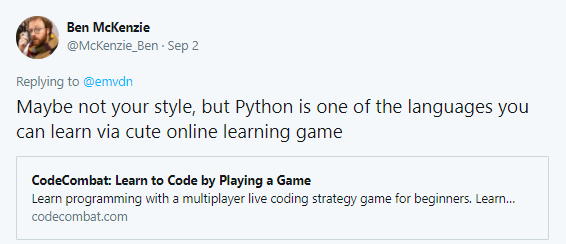 Thank you for suggesting us Ben, for your kind words, Reuben, and we hope you had a chance to try it Emily!
---
We couldn't think of a better way to end our first CodeCombat Social Roundup than celebrating the start of the weekend with teachers who love their Friday coding!
Gina Hansen, Technology Teacher at Columbine High School, has a room that looks prepped for some rewarding coding. Thank you for sharing with us, Ms. Hansen and making us a part of your CS curriculum!
Coding Friday Fun!! #CodeCombat @chsrebelations @hansensclasses @Rebel_Athletics @columbine pic.twitter.com/vsHxyrxbGa

— Hansens Classes (@hansensclasses) September 29, 2017
--- Coding, it's the breakfast of champions! Vickiela Wright starts her [Meadowview Elementary School](https://twitter.com/Meadowview68) class right.
Nothing like a little JavaScript In the morning. Thanks @CodeCombat #FridayFeeling @Meadowview68 pic.twitter.com/kQBYp1Qgek

— Vickiela Wright (@VickielaWright) September 1, 2017
No, thank you, Ms. Wright, for letting us be a part of your students' morning. We also spotted that Harry Potter book and those funky green chairs - you have an awesome classroom!
---
Looks like Cando Community School teacher, Rhonda Head found a perfect solution to a problem. Thank you for the fun tweet, Ms. Head!
There were no subs available on Friday so..I gathered all the HS students together and we coded!! #python @codeorg @CodeCombat #lskysd pic.twitter.com/Sfb1GMxbsD

— Rhonda Head (@TechRhonda) September 24, 2017
---
We're so thankful to have fantastic educators that make CodeCombat a part of their classroom, students who find inspiration in their heroes and lines of code created in the game, all the players that venture bravely into coding, some for the first time by choosing us as their entry, and of course our open source contributors and volunteers who continue to help the game grow and flourish.
Thank you heroes and see you next month with a roundup of more great social shares! Want to be included in next month's CodeCombat Social Roundup, make sure to Tweet your pictures and videos to us on Twitter @CodeCombat, Facebook, or via Instagram or Youtube, just remember to use the hashtag #CodeCombat so we can find your great content!
---

Continue the adventure! Share your pictures, stories and feedback with us on Twitter & Facebook, join the discussion on our Forums or contribute to our open source community. Are you a teacher, CS advocate, parent or administrator? Want to blog for us? Check out this post.