This year, back to school is an opportunity for growth. CodeCombat is excited to share what we've been working on this summer and look forward to celebrating more great student outcomes.
Accessibility Improvements
More than ever, it's essential that all students have the ability to learn Computer Science. For those with visual impairments, we've added a screen reader mode to Ozaria. It features full WCAG 2.0 AAA compatibility and allows all content to be playable by screen reader users. In addition, even though Ozaria's level layouts are very visual, we've developed a smooth way of navigating them with a keyboard-and-narrated-text overlay that we're thrilled about. Currently in beta testing, we encourage our community of educators and students that use these resources to share their valuable feedback with us at support@codecombat.com, so we can continue to improve the experience.
We are happy to announce that voice-over narration for Ozaria Chapters 2 through 4 is now complete.
Additionally, we've added an automatic video subtitle display and cinematic keyboard navigation for more improved accessibility options.
AP Computer Science Principles
Our curriculum is designed to meet AP CSP standards and includes a combination of in-game content, in-game curriculum, and unplugged activities to cover additional CS concepts. Contact us to learn more about our curriculum and check out the updated syllabus.
Just one of the many resources we provide are a series of new Kahoot Quizzes. With 15 quizzes currently available, we cover all the AP CSP exam topics. Contact us at schools@codecombat.com to get access.
We will continually update and improve our curriculum throughout 2022 and 2023, so please check back to discover more great resources!
UX/UI Enhancements
We are always looking for ways to make your experience as an educator more efficient, effective and enjoyable. With our new diff views feature, available from both the Ozaria and CodeCombat teacher dashboards, you can easily compare student code to solutions.
Previously only available for Ozaria, now CodeCombat features shared class access, allowing for greater transparency and collaboration between teams of educators. With variable access levels available, you can share strictly for visibility or provide full edit access.
Among the most notable changes to the Ozaria teacher dashboard is the easy access to outcomes reports. One-click and you instantly have a shareable status of class level progress.
The Resource Hub (soon to be renamed Teacher Toolkit) has been completely overhauled for Ozaria and CodeCombat with easy-to-navigate section headers and even more great resources.
And with our updated student-facing lesson slides for CodeCombat, it is even easier to teach the entire CS curriculum with more engaging visuals, activities, and walkthroughs!
More Language Access
In addition to Python and JavaScript, CodeCombat classrooms can now play all courses in C++. And as we continue to add more language options to learn and explore, Java moves from experimental alpha to a closed beta offering. If you are interested in trying Java, please contact our team at support@codecombat.com.
Ozaria now in Spanish
Complete Spanish translations are now available in Ozaria, providing CS access to our Spanish-speaking community. To try the content yourself, visit Ozaria.com today.
Professional Development Recognition
Get the recognition you deserve. Our professional development course is endorsed by the CSTA as a high-quality PD opportunity and offers 44+ hours of training. Complete the course to receive an official certificate.
And use our certification badges as part of your email signature to let your community know what you've achieved.
Competitive Coding Esports
The CodeCombat AI League continues to be a massive hit and is a truly innovative experience in the academic esports space. We offer custom packages that allow educators to run competitive coding esports tournaments at the class, school, or district level. Contact schools@codecombat.com to learn more.
Check Out the EdTech Adventures Podcast
With expert guests, we explore the role of technology, STEM, and creative play in education. Join us as we discover how learning is always an adventure.
In our first few episodes, we discuss topics such as partnering with Olympic athletes to promote social-emotional learning, bringing the world of Wakanda to life to encourage underserved youth to code and tackling problems of every kind with computational thinking skills.
Check out all the episodes with our amazing guests here.

Efficacy Study Access
Want to see how Ozaria has impacted students of different communities and backgrounds? Check out the updated efficacy studies on our updated reports page.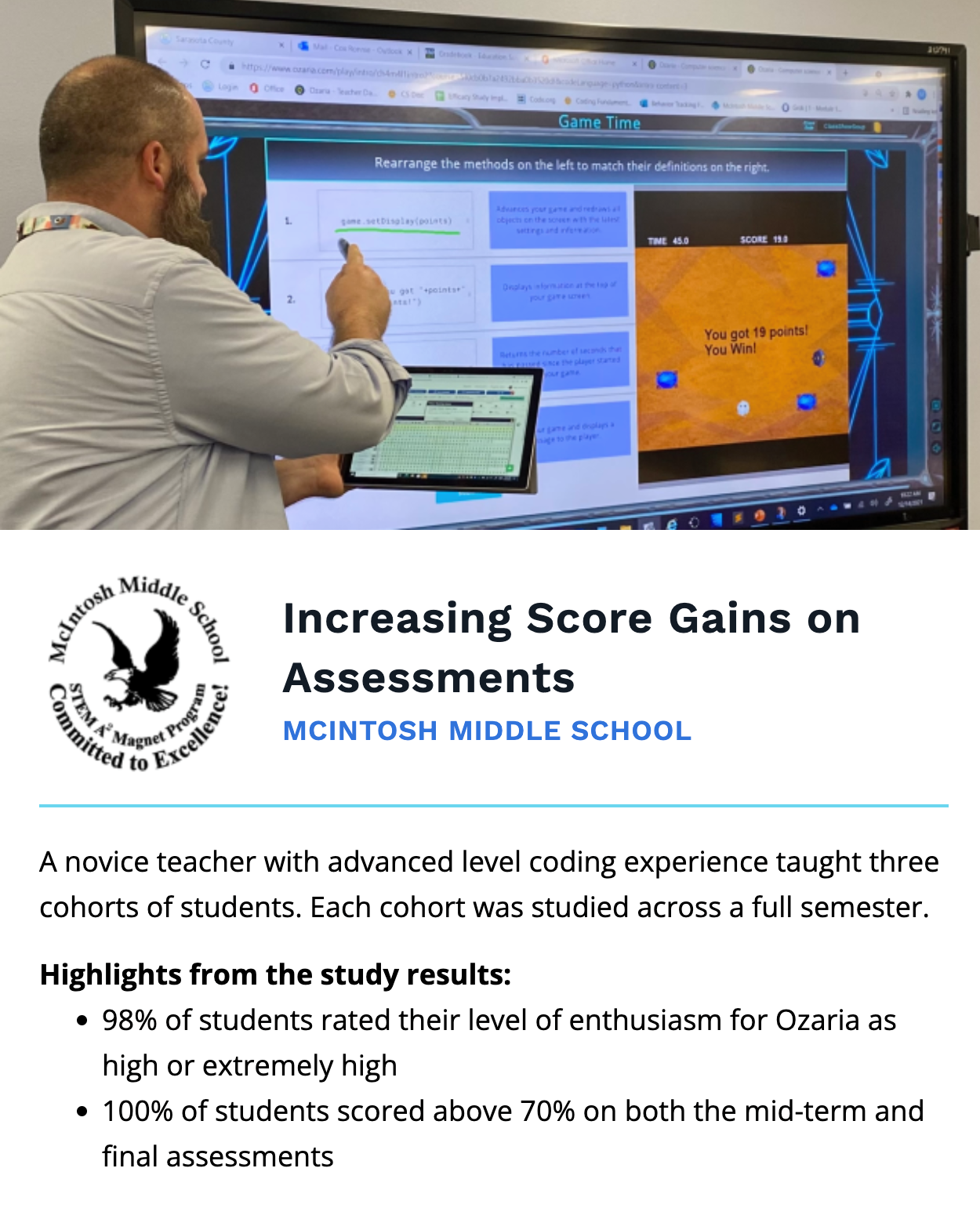 Need Funding?
Our CS solutions align with the high-priority initiatives supported by the COVID-19 CARES Act - ESSER & GEER relief funding programs. Learn how you can get funding support here.
We Offer Solutions for Libraries
Libraries play an important role in advancing educational equity in their communities. That is why we are partnering with libraries across the country to provide access to our game-based learning tools and educational resources. Learn more here.
Partner With Us
Join us in our mission to make coding engaging and accessible to all. See how we've built sustainable partnerships and contact us with your interest in a collaboration to make an impact with students in your community.

More to Come While these are a long list of changes and updates, we're not done yet. We still have more features on the way! And as always, we welcome your questions and value your feedback. If you're a teacher, please email us at schools@ozaria.com or request a demo anytime.