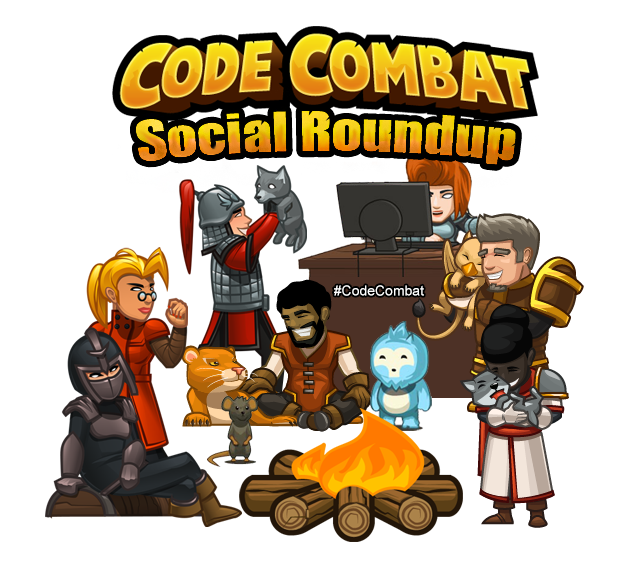 We rounded up a few of our favorite CodeCombat #HourofCode social posts from around the internet to share our digital appreciation with our awesome students, educators, and players.
---
Starting your #HourofCode event with CodeCombat? Sounds good to us! These Lincoln High School students had many options to choose from, so we feel honored to be their first Hour of Code activity. Thanks for sharing, Ms. Evans!
#TCBOE It's Computer Science Week, and we kicked off #HourOfCode2017 with @CodeCombat! #GoodAsGold pic.twitter.com/m8RCItIjRg

— Susan Evans (@evanstektchr) December 5, 2017
---
Thank you, Northern Hills Middle School and Mr. Zavislak for making us a part of your Hour of Code!
Day one of @hourofcode at @NHMSHuskies. 7th & 8th graders are loving it! Reaching over 150 students during this event with @codeorg.#HourOfCode#minecraft #lightbot #codecombat pic.twitter.com/TQei3Zh0GP

— Adam Zavislak (@MrZRobots) December 7, 2017
--------- These students at [Perris High School](http://phs.puhsd.org/) look completely engaged! Thank you, Mrs. Romero for sharing CodeCombat with your students during Computer Science Education Week.
Mrs. Romero's students move through the @CodeCombat levels for #HourofCode. @CSforALL #CSEDWeek #PantherPRIDE #ScholarPlus #NationalMovement pic.twitter.com/vxAG947P0S

— Perris High School (@PerrisHigh) December 4, 2017
---
From their answers, its safe to assume these students at Public School 131 in Brooklyn, NY know how they would apply their coding skills in the real world. Thank you, PS 131 teachers for sharing how educators can engage with students to think critically while having fun.
#ps131K15 4th graders share their thoughts on how coding can help them in real life. #CodeCombat #HourOfCode #CodeBrooklyn pic.twitter.com/lxzw9iKu48

— Public School 131 (@ps131K15) December 5, 2017
-------------------
The students at St. Thomas More in Ontario, Canada are doing awesome things like participating in the largest hackathon in Canada, Hackergal and of course exploring coding with CodeCombat. Thank you for sharing, Ms. Mirna and Mrs. Ross!
Hour of Code with @Ms_Mirna22! Who will be successful coding our movements in CodeCombat? @ThomasMoreOCSB pic.twitter.com/GRQ5bjl5rr

— Angela Ross (@MrsRoss23) December 7, 2017
-------------------- These [Paloma Valley High School](http://pvhs.puhsd.org/) NJROTC cadets AND teachers are doing a great job coding! Thank you, Commander Garcia for sharing CodeCombat with the class.
Paloma NJROTC cadets enjoy themselves while participating in Hour of Code activities. Shown in this video, Commander Garcia's class completes a #CodeCombat course. #PVHSwildcats #PUHSDcodes pic.twitter.com/At1ElmYBGo

— Paloma Valley (@PalomaValley) December 8, 2017
-------
We always love to see how students collaborate using CodeCombat! Thank you, Ms. George, for sharing how these Herndon Heroes are working together at Herndon Intermediate.
5th graders helping each other on Lighbot and CodeCombat #HourOfCode #RCISDJOY pic.twitter.com/OeQw4zfX2H

— Shelley George (@hhh_ComputerLab) December 4, 2017
-------------- Congrats to all the students at [Dr. Samuel A. Mudd Elementary School](http://www.ccboe.com/schools/mudd/) who participated in the CodeCombat Hour of Code activities during Computer Science Education Week!
5th graders proudly displaying their #hourofcode certificates! They began learning Python on @CodeCombat ! Great job kids! #CCPS #MuddLeaders pic.twitter.com/As1rAIXYI5

— Dr. Samuel A.Mudd ES (@DrMuddES) December 6, 2017
Great Job by 5th Grade today during #HourOfCode ! They tried their hands at JavaScript on @CodeCombat as well as a number of games on @codeorg #CCPS #MuddLeaders pic.twitter.com/a0cn0B1C1L

— Dr. Samuel A.Mudd ES (@DrMuddES) December 7, 2017
-----------------
Look at these young coders go at Stony Point Elementary! This is what Hour of Code is all about - inspiring a passion for problem-solving and creativity. Thank you, Ms. Nolan for sharing the look of total engagement and fun on their faces!
"We're coding!!! Like real coders!!" "I did it!!" @SPElemLibrary @stonypointschl #HourOfCode2017 #acps #codecombat pic.twitter.com/kVOYnbf7rg

— Charli Nolan (@cvenablenolan) December 4, 2017
---
We had a record number of teachers who participated in the Hour of Code sign up for CodeCombat accounts. Welcome to the family! We can't wait to hear your stories and share your pictures and students' projects in the next Social Roundup.
Just because Computer Science Education Week is officially over doesn't mean the coding has to end. Our Hour of Code tutorials will remain available on the Hour of Code site for any student who wants to continue playing and learning. We recommend creating a teacher account and starting a free class for your students to track their progress.
If you have questions about starting a CodeCombat class for your students or licenses email us schools@codecombat.com or chat with us.
---


Continue the adventure! Share your pictures, stories and feedback with us on Twitter & Facebook, join the discussion on our Forums or contribute to our open source community. Are you a teacher, CS advocate, parent or administrator? Want to blog for us? Check out this post.